Florida RV Parks can be paradise or a nightmare. Living in Florida and being RV travelers helps us have some insight on some of the great spots for RV travel in Florida. It is one of the best vacation destinations in the entire United States. There are all kinds of places to see and visit, and a great way to see the state and find all of your personal Top RV Parks is by taking an RV road trip. We have lived in Central Florida for 20+ years, and here is a list of our top 5 favorite RV Parks in our beloved state.  
This post may contain affiliate links that when used by you may give us a small but significant commission. There is no additional cost to you, and this allows us to continue to share our blog with you. We value and appreciate your support and promise to share quality links to products we believe in.
Florida RV Parks – Gulf Coast
This has got to be one of the very best RV parks in Florida. Located on the panhandle, this RV park sits right on the awesome white sand. One of the rows of RV sites pulls up to a beautiful view of the Gulf of Mexico. Unfortunately, they only have water and electric, no dumps. However Camp Gulf employees do come around with a portable when your tanks are full. The park also has two swimming pools. The park also has some great cabin rentals that they offer. The Beach House cabin at Camp Gulf has 2 master suites and a bunk room that has 6 bunk beds. The cabins have everything from cold air conditioning to cable TV. The property is located in a great location as it's just outside the city of Destin, but still within walking distance on the beach and to great restaurants.
Florida RV Park with White Sand Beaches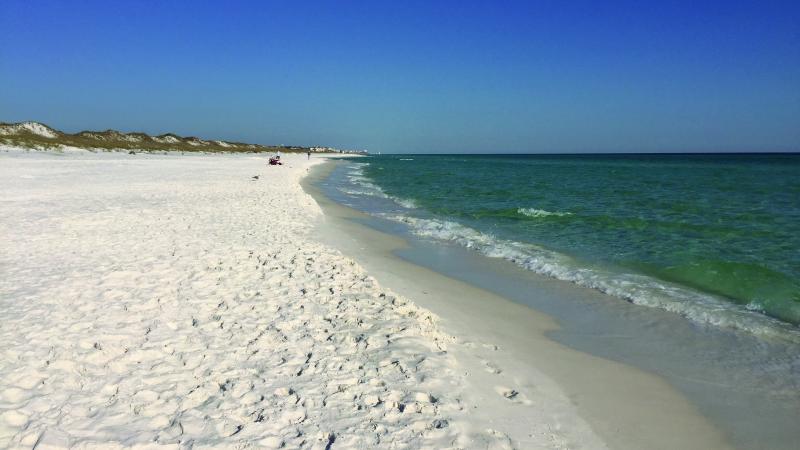 This state RV Park is located on a beautiful beach with super white sand. This campground has a mix of RV sites, tent sites and a few teepees. The premium sites include full hookups on a cement or gravel pad. The tent sites offer water and electric. All sites include a fire ring for camp fires. The beach is about a 10 minute walk away. Being a state park, there isn't as much of a crowd as at other resort beaches. Also right around the corner is the town of Seaside. This quaint little town has an area where Airstream trailers are outfitted as food trucks. It's really neat and defiantly worth checking out.
Head toward the Keys in your RV
Bahia Honda State Park is on the south end of the 7 Mile Bridge. Definitely a must if you RV all the way down to the Florida Keys. Located on a great beach that has actual sand so swimming in the Keys is possible. There are kayak and stand up paddle board so you can get out on the ocean water, or if you prefer lighter wake, try going through the mangrove trails at John Pennekamp. Marathon is near by, so you have all the amenities of a bigger town close by.  
RV Florida History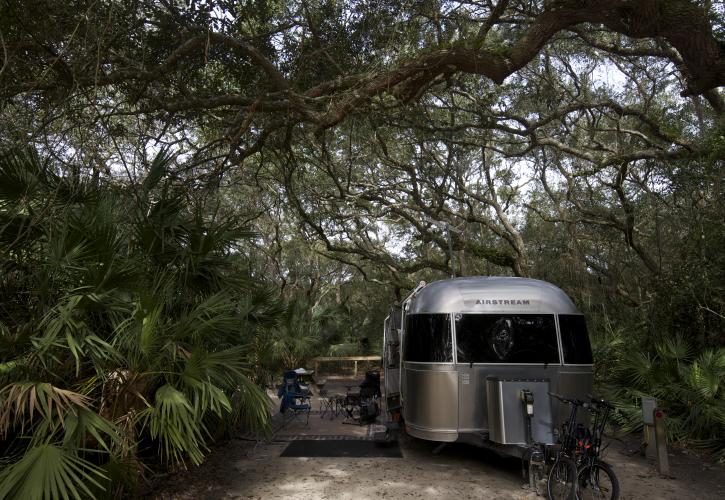 If you are on the north east side of the state, check out Anastasia State Park in St Augustine. Anastasia is a State Park and it has a perfect mix of beach and attractions as downtown St. Augustine is a short drive away.  The State Park offers kayaking, fishing, swimming or hiking.  A great place for outdoor activity. Then St. Augustine is just a quick drive away. This park is also right next to the St.Augustine Amphitheater, so if you are there when a show is going on, it is a great place to stop by and check out a show.
Down in the southern end of the state, you have the great city of Miami. Whether you're looking for night life or something to do with the family, you can find it in Miami. One of the top RV Parks in Florida has to be Miami Everglades RV Resort. Miami Everglades RV Resort has it all. There are full hookups sites, and with the heat in Miami, you will need your AC for sure. It is pet friendly having walking trails for people and pets as well and a nice dog park. Miami Everglades also has pool, hot tub, playground for the kids, shuffle board, pickle ball, basketball courts, and a really cool mini golf course. There is a campstore in the front office if you have forgotten anything from home, or just need to pick up a couple of groceries.
Thanks for reading! Click Here to check out our other articles!