We have found that while RV boondocking, electricity options are convenient, even if it is to just charge your phone for pictures. There are a many accessories that can keep you connected.
Of course, there are different levels of electric needs. It all depends on what you need, but it is possible to get electric out there in the middle of no where.
What is RV Boondocking?
A simple boondocking definition is basically off grid camping. Off grid camping while in an RV is when you are not connected to an traditional RV space that has water, electric, and sewer connections. Another name for RV boondocking is dry camping. Additionally, some call it free camping as well as wild camping. There are many levels of being off grid, you can have very little resources for electric or you can run your whole RV.
Electricity Options for your next RV Boondocking Adventure
The RV's Battery your first source of Electric
Your RV typically has some sort of battery. These batteries charge and remain full when you are hooked up to a type of power source. If you just have the standard 12-volt battery system that most RV's come with, this will give you some power for a short period when disconnected from a power source. A couple days at best. You will have access to your electric outlets, and other items that run on low electric. Your water pump and inside lights for example. Do not expect to run your AC, or microwave on just your battery's power. It won't work, and if it does, it might damage your battery.
Tips for using the RV Battery for Boondocking
I do not suggest letting your battery's power get below about half for a couple of reasons. First, it is not good for the battery to completely drain it. It can and usually does damage it. Second, if you have electric pop outs, or an electric awning, and you have them out, and your battery dies, there is no way to get them back in. Turning off the main breaker when you are not using the electric will help preserve the battery. If for some reason you do run out of juice and need to recharge, you can reconnect to your vehicle and it will recharge from that.
Boondocking and using your Vehicle Battery
Just like the RV's battery, you can also utilize your vehicles battery. As I stated in the last paragraph, you can use your vehicle's battery to recharge your RV battery. You just need to hook your vehicle's electric back up to your RV, just like you would if you were going to move the RV. This will charge your battery, but be aware that you are going to be using gas while doing this, because the vehicle needs to be on. And then of course you can also use your vehicle's battery to charge your cell phone, laptop etc. Just be aware that if you use the battery for a long time without turning the car on, you run the risk of your battery dying.
Affiliate Disclosure: This article contains affiliate links that we may get a small commission from without any additional cost to you. We are mindful about what we select and we truly thank you for your support.
Accessories that will help your RV or Vehicle's Battery
Jump Starter
If you do choose to use your RV or your vehicle's battery there are accessories available that will help keep it alive and/or recharge it.
Some of these accessories are simply for when your battery has died. We have and keep on board the NOCO Boost Plus GB40 1000 Amp 12V UltraSafe Lithium Jump Starter. This is a good options because it can jump your battery if it does go dead, but it also holds an electric charge that you can tap in to with a USB plug. This way you can charge your phone, or a small appliance. We always try to keep a charge on it, and keep it available, in case our battery does die.
Solar Power for RV Boondocking Electric
If you want to keep your battery charged while off the grid, in my opinion, solar is the way to go. The price of solar continues to drop as the technology gets better. There are several different solar options but I like the Renogy 200 Watt 12 Volt Monocrystalline Solar Starter Kit. Once you mount this kit on your RV, the solar power will trickle charge your battery so it will stay alive. With this option, you are running electric off of your RV battery, but the solar panel will continuously provide a small charge. Again, there are tons of solar options, so if solar is the way you want to go, do your research. But the Renogy keeps our battery alive when we are boondocking off the grid.
Generator Options for RV Boondocking
Probably the best way to keep total power, would be a gas generator. There are several options when it comes to this. Some generators will simply allow you to run your smaller items like your water pump and electrical outlets, and others will run anything that you would want in you rig. All generators are not created equal. Be cautious when you are shopping for a generator. Most of the time, you get what you pay for.
Smaller Gas Generators for simple RV Boondocking
Typically if you are just looking to run your basic items, power outlets, water pump etc, a good option is a 2000 or more watt generator. In the past I have been a big fan of the Honda 2200, but recently there have been a few recalls, and I have found there are other options out there that do equally as good of a job for significantly less money. I really like the PAXCESS 2300 Watts Super Quiet Inverter Generator. This generator is fairly quiet comparatively. It is lightweight and portable, and smaller in size. I have found that you can run your basics on this one for about 12 hours off of a full tank of gas.
Small Camping Generator with the Options
Another great way to generate power while boondocking off the grid is this Atima Inverter Generator 2000 .
This generator is very similar to the one above. It is quiet, and will provide you with enough power for your smaller stuff for about 12 hrs. It is a little more expensive, but overall a little better quality.
This AY2000I Generator can power the following accessories: blender, coffee maker, computer, incandescent lights, portable fan, TV/DVD, RV, AC, slow cooker, two-way radio, garage door opener, hair dryer, standard microwave oven, Energy Star refrigerators or freezers.
Perfect for RV boondocking and camping. It boosts whisper quiet while running. It is lightweight and portable and it features an advanced inverter and a 2 year warranty.
Learn about how to make money while traveling.
A Large Generator for Longer Boondocking Camping Trips
Meet the Champion – Champion Power Equipment 100520 8750-Watt DH Series Open Frame Inverter with Electric Start.
Advanced Open Frame Inverter Design: 30% quieter and 25% lighter than a traditional Champion 7000-watt generator, plus this inverter only produces Clean Power, and Economy Mode saves fuel
Electric Start: The convenient electric push-button start includes a battery
Quiet Technology and Extended Run Time: 72 dBA is great for your next project or home backup, with 8750 starting watts and 7000 running watts for up to 10. 5 hours run time on gasoline
Champion Support: Includes 3-year limited with FREE lifetime technical support from dedicated experts
Power Source Type: Gas Powered
A Small Accessory for Simple Electricity while RV Boondocking or Camping
Perfect for VanLife and RV Boondocking too!
If you are just planning on being without electric for a day or two, or just don't have access to your vehicle, RV or generator, there are a couple of options for you.
These are the type of things that will get you by. I really like this Generator Portable and Solar Generator Power Station . The perfect little power station! I love this thing. It will give you just a bit of power to recharge your light or your phone or maybe a laptop. It also has an optional solar panel to charge it.
Looking for the best RV Boondocking locations? Find free camping options.
RV Boondocking Accessories that don't use any Electric
A good coffee press is a must in my opinion. Preferably, one that is sturdy and reliable enough to handle camping.
This mood light by Loftek is portable and rechargeable, it can last up to 6-12 hours.
Color Changing: 16 beautiful RGB colors and 4 lighting modes, perfect for outdoor ambiance. Its has multiple lighting effects.
LOFTEK LED Decor Light Spring Sale!
Indoor / Outdoor Electric Heaters for RV
Approved for indoor/outdoor use; clean-burning; nearly 100-percent efficient
Auto shut-off if tipped over, if pilot light goes out, or if detects low oxygen levels
RV Tailgating?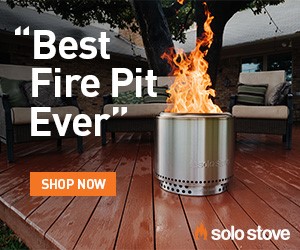 Free fire pit stand with any fire pit purchase at solostove.com!
#1 Portable Solar Oven from Alaska to Afghanistan! Cook from sun-up to sundown.
The most versatile solar oven on the market. Bake cookies or pizza. Dry fruits and herbs. Can accommodate a wide variety of cookware. No assembly required. Easy to use. Sets up and stores in seconds.
Final Word on RV Boondocking Electricity Options
At the end of the day, it really is just about what you are needing. If you want to power your entire RV, you will need to spend a lot more money. Most times, you don't need to be that extreme to enjoy nature.
Whatever way you choose for Boondocking electricity options have fun and Happy Boondocking!!
Click Here To Find Reputable Resources – RV Boondocking near me